yipo_winter_23_heb_desktop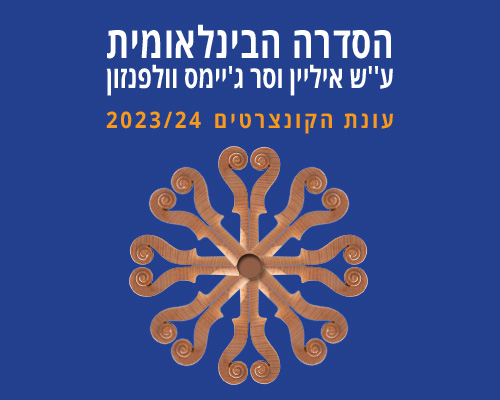 The Jerusalem Music Centre, led by the celebrated pianist Murray Perahia, is one of the leading institutes in the world in promoting and nurturing gifted young musicians, and brings the world's greatest musicians to Jerusalem for concerts and educational work. The young musicians, from all over the country, that take part in the educational programs of the Jerusalem Music Centre, embark on a challenging journey that includes musical encounters with some the great masters of the classical music world. The JMC was founded in 1973 by legendary violinist Isaac Stern and Jerusalem Mayor Teddy Kollek, with the assistance of Yad Hanadiv (a Rothschild foundation) and the Jerusalem Foundation. The Music Centre holds prestigious concert series in Jerusalem and Tel Aviv featuring ensembles and soloists from around the world alongside the best musicians in Israel, and the concert series Youth At The Centre broadcasted live on the radio.
Nurturing young musicians
The Jerusalem music centre nurtre the finest talents in Israel since its foundation in 1973. Gifted young musicians from all over the country participate in the programs of the Jerusalem Music Center. These programs are uniquely tailored to promote excellence in all fields of musical performance. The educational programs operate in collaboration with the the Ministry Education – the department for gifted and excellent students and the Music educatoin inspector department. The programs' participants are granted a special status by the ministry. Many of the centre's graduates went on to form diverse musical careers in Israel and abroad, as soloists and leading musicians in important orchestras, in chamber ensembles, and as teachers, and some also became renowned musicians, including Yefim Bronfman, the Jerusalem Quartet, Amichai Grosz, Sharon Kam, Roman Rabinovitch and many others.
The Jerusalem Music Center's recording studio was designed by the best acoustic experts in the world under the watchful eye of the centre's founder, Maestro Isaac Stern.
In the studio located Yemin Moshe, one of the most picturesque and inspiring areas in the city, the best artists in the world filmed and recorded. The studio with its rare acoustics makes it a perfect venue for recordings of diverse music – classical, jazz and rock.